Reselling Microsoft products and services doesn't deliver enough value or improve your customer's satisfaction. How can you become the BEST Microsoft value-added reseller?
In the below article, you will read how you can become that Microsoft reseller that adds value and stands head and shoulders above his competitors.
If there is one thing that Microsoft has done successfully in the past years, it is to transform its business model. It has turned its PC and Windows perpetual license-based business into a thriving subscription-based Cloud-first company.  
They did so by keeping and enhancing their partner-centric delivery model. This ecosystem of partners gives Microsoft an incredible reach into both the SME and Enterprise market, with each type of Partner having its specific role and accompanied responsibilities.  
And that is where things get somewhat complicated. 
The Microsoft Partner ecosystem
As a customer, you have three options for getting a subscription to Microsoft's Cloud services: 
Direct: 
You can become a Direct Customer and get your invoice from Microsoft. 

 
Indirect: 
Direct-bill Partner or

 

An Indirect Reseller

 
Both generate your Azure and M365 invoice and offer you additional (managed) services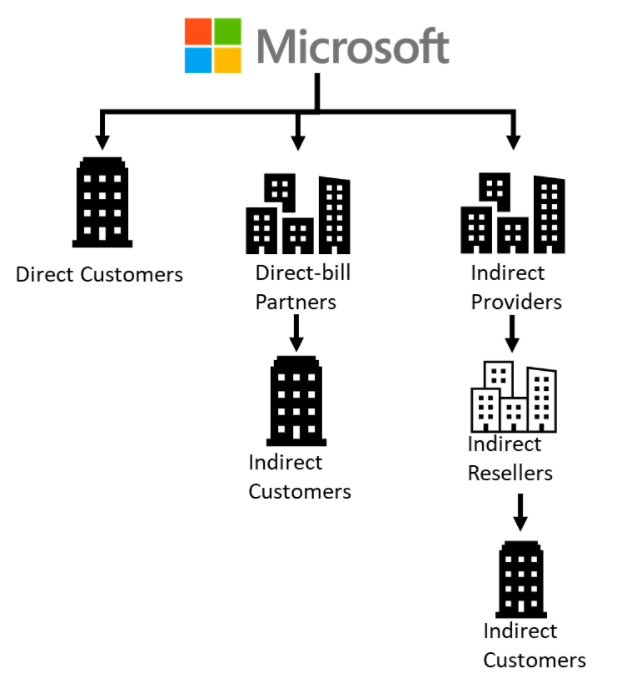 As you can see in the above overview, Microsoft has introduced a third type of Partner, the Indirect Providers, whose sole purpose is to distribute and invoice the Microsoft Cloud services to Indirect Resellers.  
The Microsoft partner ecosystem is constantly evolving, but one thing is clear; Microsoft aims to bill fewer Partners and Customers. Smaller Partners that would previously serve as a Direct-bill partners are gently persuaded to become indirect resellers, which are served via the indirect providers  
Azure and M365 Cost Management Challenges
There is no doubt that Microsoft Partners are often better able than Microsoft to serve the Customer as their customer engagement model is fully adapted to serving customers. Their local presence, knowledge of the Customer's requirements and ability to design, implement and manage the Customer's Cloud environment makes them the perfect fit.  
However, there are challenges in Cloud Cost Management, challenges that increase as the number of Microsoft Partners in the chain grows. 
Challenge nr 1: Invoices ≠ Cost Management
It is the responsibility of the Microsoft Partner to invoice the Customer, but sending an invoice is different from providing the Customer with the insights they need to manage their costs.  
Challenge nr. 2: Number of line items
It might have been the case in the pre-Public Cloud era when invoices from the Partner consisted of a limited number of (managed) services that were easily understood by the Customer and relatable to the contract he signed. Fast forward into the Public Cloud, we all know that the number of invoice lines has gone through the roof. No customer can decipher an Excel or PDF with that many invoice lines. 
Challenge nr 3: The invoice system
The first natural response might be to alter the current invoice system, but an invoice system is not made for or meant to give real-time insight into Usage and Costs as a Cloud Cost Management Tool will. Its purpose is to invoice the Customer the correct amount; ask the finance department to confirm; no messing with the invoice system. This makes them rigid, inflexible, and not fit for purpose when it comes to cloud cost management. 
Challenge nr.4: Getting the Usage and Cost Data to the Customer
With the indirect reseller model becoming the preferred Microsoft Delivery Model, the billing and usage data changes hands several times before reaching the Customer. In a perfect world, it would look something like this: 
The Perfect World 

Reality often looks like this: 

As each part of the chain uses its own system to receive and create invoices, vital usage and cloud tag data are lost. This results in dissatisfied Indirect Resellers and Customers who cannot get and share the insights needed to perform proper Cloud Cost Management. 
The solution to what problem?
Before we dive into possible solutions, we need to take a step back and determine the real issue we need to solve. Is it an invoice issue or a cloud cost management issue? They seem alike but have different goals. 
The Invoice
The purpose of an invoice is to have the correct amount mentioned on the invoice and to be able to relate the invoice to the signed contract or subscription with its commercial agreements. It is an exact science that leaves no lean way; the price on the invoice is either right or wrong. The purchase department of the Customer expects an invoice that is relatable to their contract and without errors. 
Cloud Cost Management
Looking at Cloud Cost Management, budget accountable actors come into play. Their diverse goals and expectations differ from the purchasing department. The IT Manager wants an overview per Public Cloud and a Multi-Cloud, the sales manager per Customer, the Development department per App and HR per department. Contrary to the purchasing department, business management is less focused on the exact science of purchase prices. Give them a tool that resembles the truth with an acceptable percentage of accuracy, and they are more than happy and able to do their Cloud Cost Management. 
Invoiced based solutions
If we want to create an Invoiced based solution, we need every actor in the chain to collect and share the necessary data. The easiest way to do this is to augment the currently used proprietary invoice solutions, not replace them and put one solution in place used by all actors to facilitate the necessary data sharing.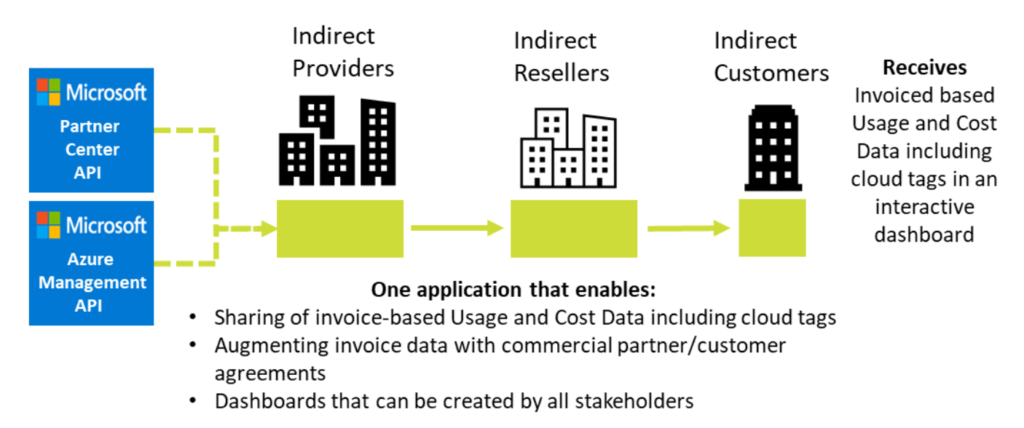 Retail Pricing based solutions
With the invoiced based solution, an Indirect Reseller relies on the Indirect Provider to share the necessary invoice data. But as mentioned earlier, a Cloud Cost Management solution doesn't replace your invoicing system, and it doesn't have to use invoice data.  
With that in mind, we can think of a solution that gathers usage data, enables the Indirect Reseller to augment the retail Pricing with the commercial customer agreements and share the required cloud cost data with its customer.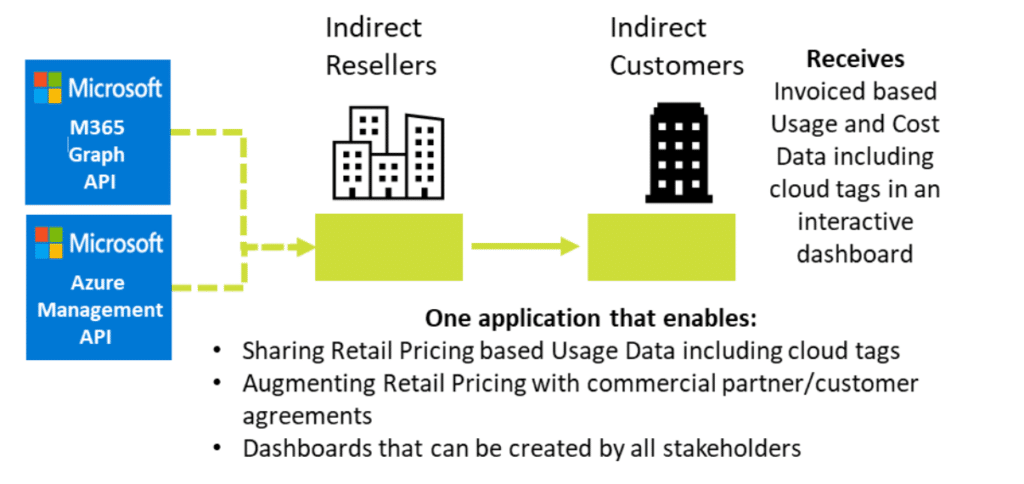 As there is no direct relationship between the initial invoice data and the data presented to the Customer, this solution works on the concept of an acceptable percentage of accuracy. The accuracy improves when the indirect reseller upholds a simple and rationalized pricing strategy that can be used to augment Retail Pricing.  
Used by the budget holders of the Customer, the application now enables them to manage and take ownership of their cloud costs. Allocating costs to centers and sharing those insights via one portal to all stakeholders instils a cost-conscious culture.  
What is in it for Microsoft partners?
Solving your customer's Azure and M365 cost management challenge is great, but as Microsoft Partner you might think what do I get out of it? The keywords are stickiness, customer satisfaction and added value. 
Customer satisfaction
Two of the greatest dissatisfiers of having to pay any bill is not knowing what you are paying for and why you need it in the first place? By providing your customers with a clear overview of their Azure and M365 costs that enable them to relate costs to business drivers, you will significantly increase your customer satisfaction.  
Stickiness
The purchasing department of your customer uses your current invoice. What if you provide a cloud cost management dashboard that the business management of your customer will use to understand and track their cloud cost? With Business management using the cloud cost management service to steer the business they will be reluctant to switch supplier. 
Added value
Providing your customer Azure and M365 is just the beginning, added value is where you make the business case valid and create the difference for your customers. Add another layer to your managed services offering by turning your invoice data into an added value cloud cost management solution. 
So, if you are looking at providing your customers with a Cloud Cost Management solution, then remember there is more than one way to get there. What way you choose depends on the availability of data and the requirements of your customer's stakeholders. 
With the C-Facts cloud cost management solution you are able to provide your customer with the right usage and cost data. 
Become the BEST Microsoft value added reseller and stand head and shoulders above your competitors.