Enterprise Cloud Cost Management
Get the insights you need to govern your Cloud Cost efficiently.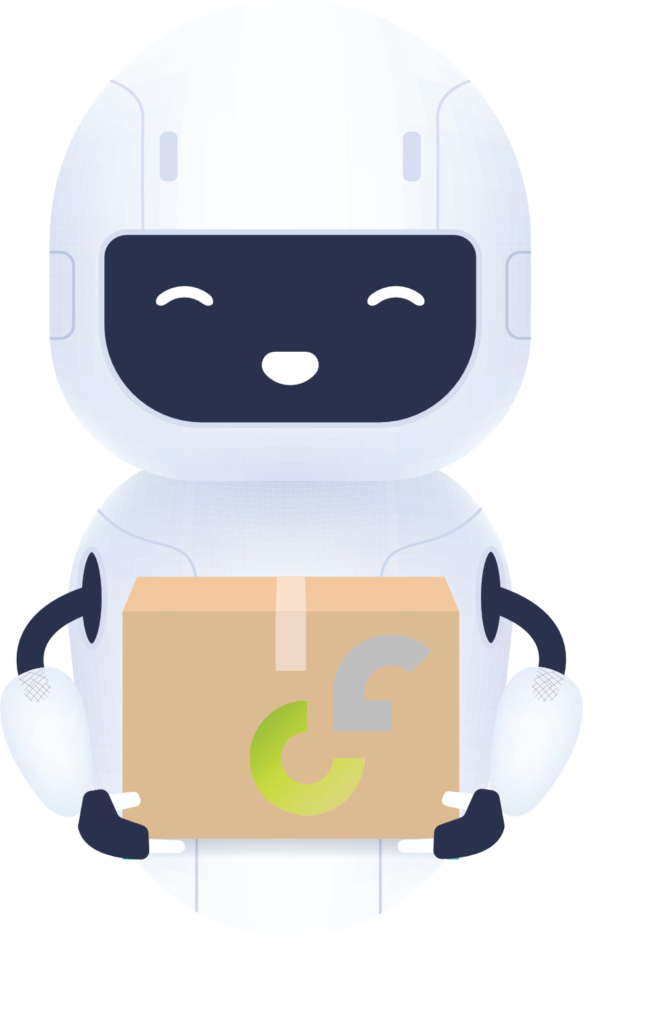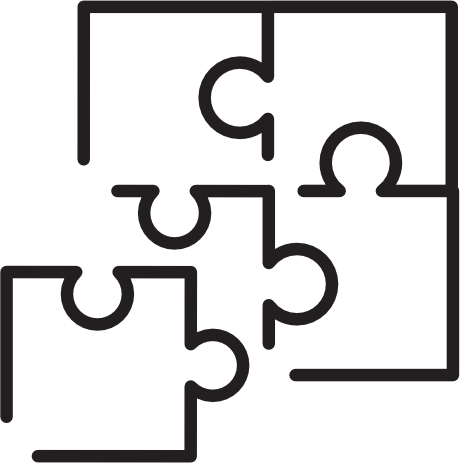 Your Cloud Cost Challenges
Using the Public Cloud is like a catch 22. You need the Cloud as it provides the agility required to stay competitive, but it also eats away at your margin when it becomes one of your main cost drivers.
A cost driver that is hard to get a grip on by your CFO and the applicable budget holders. With your teams increasing their (Multi-Cloud) adoption, the impact on your business is increasing steadily.
Cloud Cost Management is a serious challenge that, when managed poorly, can have a significant impact on your business.
Time to fix it, time to use C-Facts.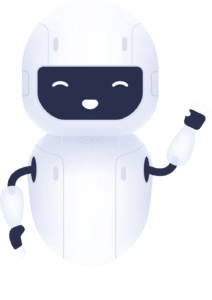 Contact C-Facts
Start using the best tool for cloud cost management.
C-Facts Cloud Cost Management for Enterprises
Business
The single pane of glass for Business management
C-Facts offer you that single pane of glass you need to show proof of a sustainable business model for the use of Public Cloud services.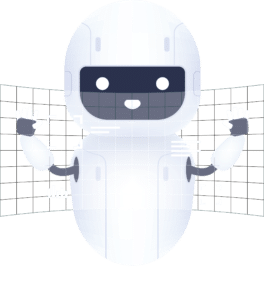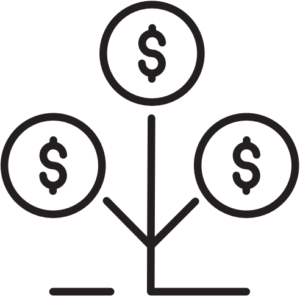 Risks
Get insight across your total cloud spend to mitigate business risk.
Allocation
C-Facts enables your budget holders to be accountable with:
The Percentage-based allocation of costs to cost centers,
The clear overview of not yet assigned costs and,
The ability to set budgets and alerts.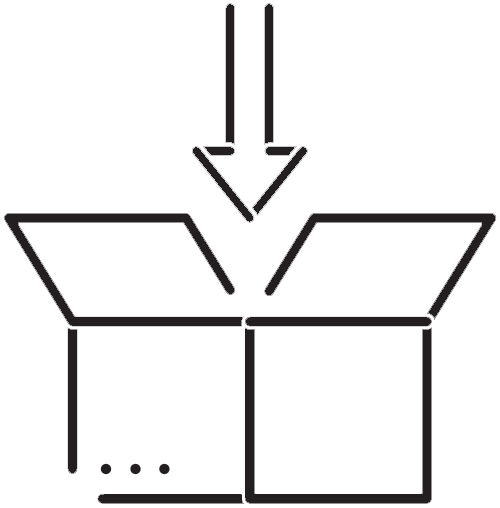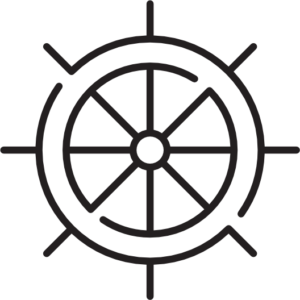 Optimise
Optimise your business by better understanding the relationship between your cloud spend, your Cost Centers and business drivers.
Control
C-Facts keeps you in control of your cloud spend with the Percentage-based allocation of costs to cost centers, the clear overview of not yet assigned costs and the ability to set budgets and alerts.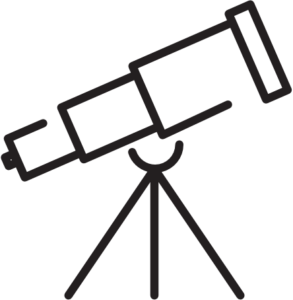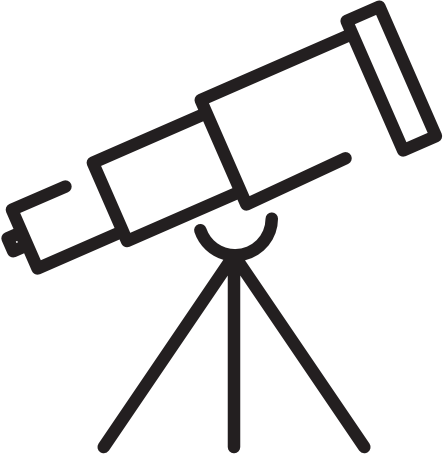 Jacob Poot - Manager Internal ICT
"This was one of the most rapid software implementations and adoptions. C-Facts sells itself."

Scott Chate, VP Partner & Market Development Corent Technology Inc
"C-Facts does an exceptional job of presenting detailed, useful information about cloud resource usage in a way that is clear, intuitive and easily consumable."

Mitesh Chauhan, Founder LaNET LTD
"We have recently started using C-Facts. Their Cloud Control Centre has helped us understand our customer spend better and also helped us spot trends."
START
Up and running in no time
Create your business management dashboard with a fast and simple three-step on-boarding process that requires a minimal need for IT involvement;
Sign up to C‑Facts
Signing up couldn't be easier. We only need your name and e-mail address to get started.
Enter your Cloud credentials
After entering your Public Cloud credentials, C‑Facts collects the data and converts it into a common data model.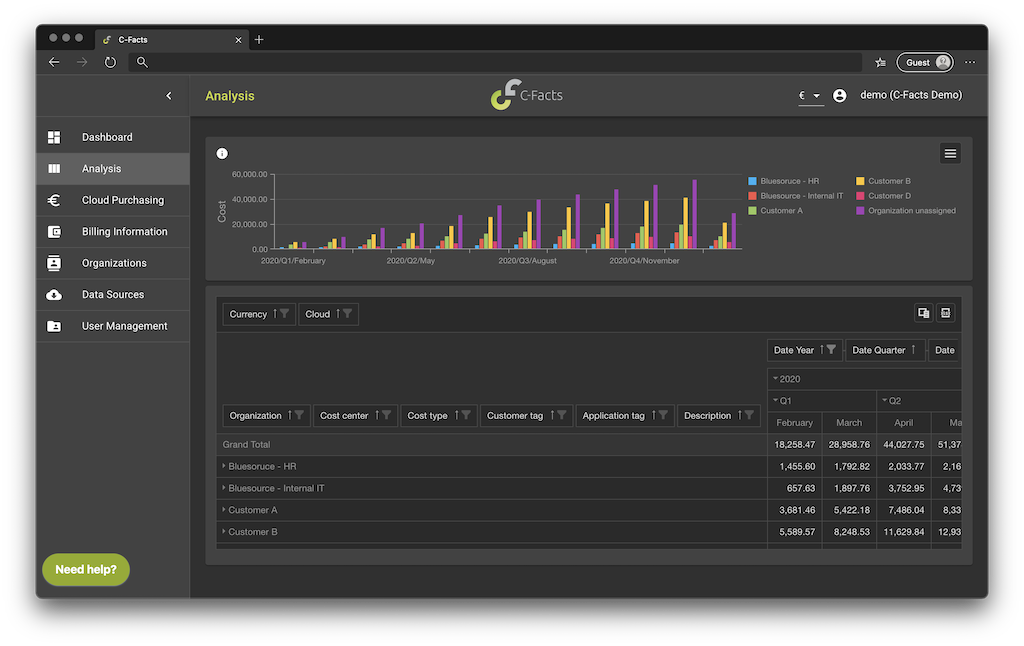 Configure the view of your data
That is all it takes to create that single pane of glass for your business management to get the required insights.
Start on-boarding and find out how easy it is to get a complete insight into your cloud usage and costs.
Cloud Cost Management for Enterprises
Use Cases of C-Facts
Insights
The Multi-Cloud in one view
With the C-Facts standard data model, we offer you a single integrated view of data from different Public Clouds.
All your Public Cloud accounts in one view
C-Facts makes it easy to get a single business based view on your cloud spend. No matter if you have:
One Public Cloud account,
Multiple accounts in one Public Cloud or,
Use multiple Public Clouds.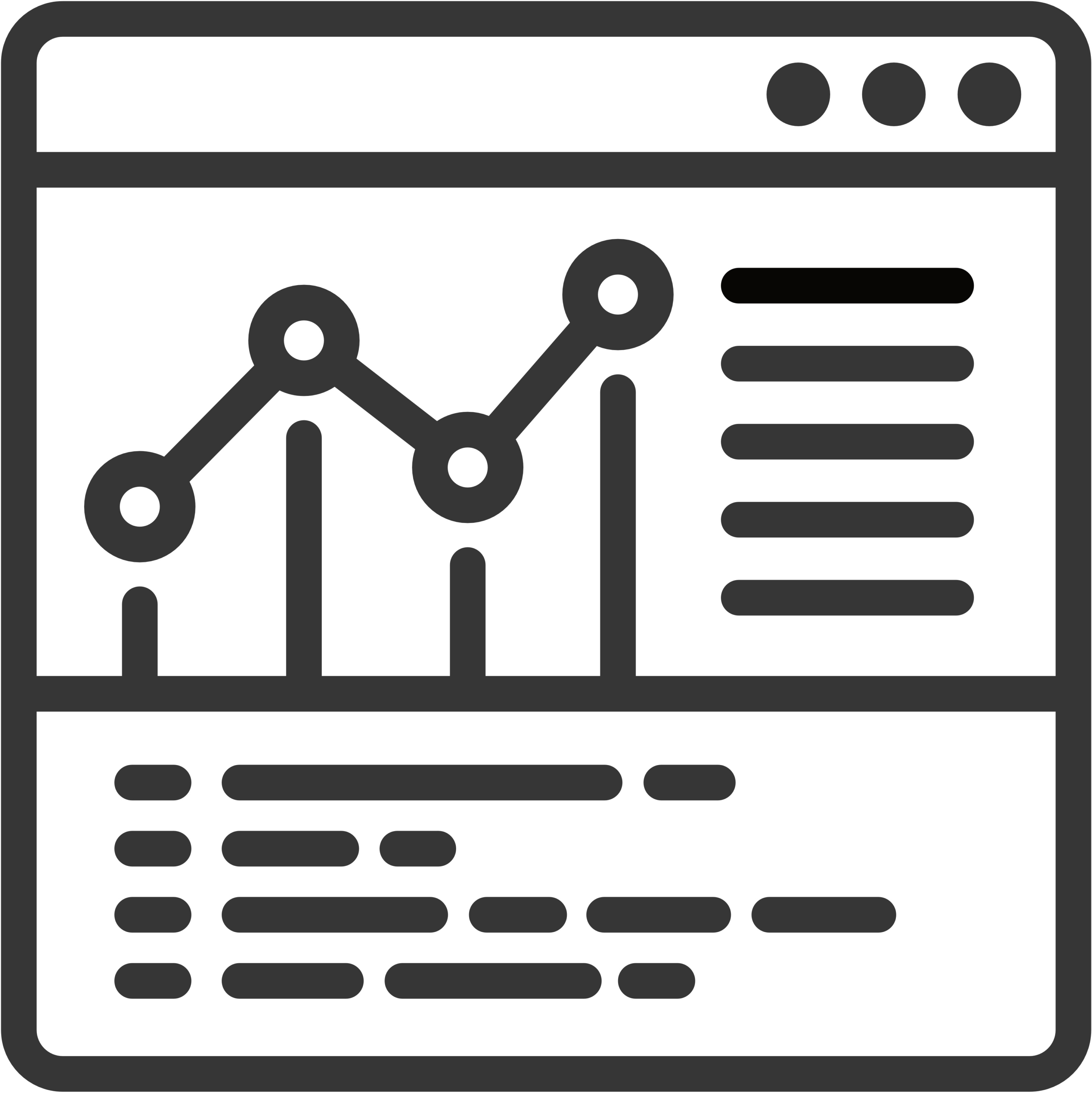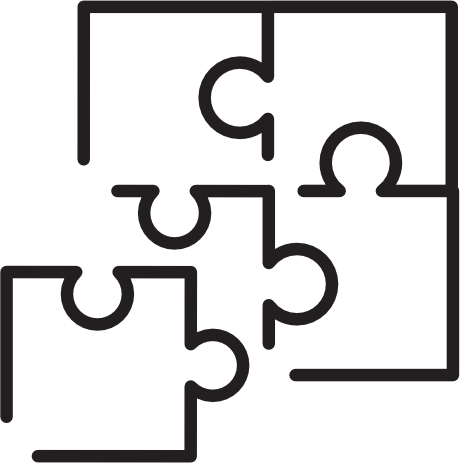 Public Cloud tagging made valuable
With C-Facts, you can finally take full advantage of the resource tags you created in your Public Cloud environment. We make the tags available in your Control Center, so you get the insights you need.
Share
Share Data to gain insights and increase cost awareness company wide
Get more value out of your data by giving internal and external stakeholders controlled access to your interactive C-Facts Control Center to let them gain the insights they need and make them more aware of their cloud spend.
Configure which data you want to share
User has access to live up to date info
Revoke access when applicable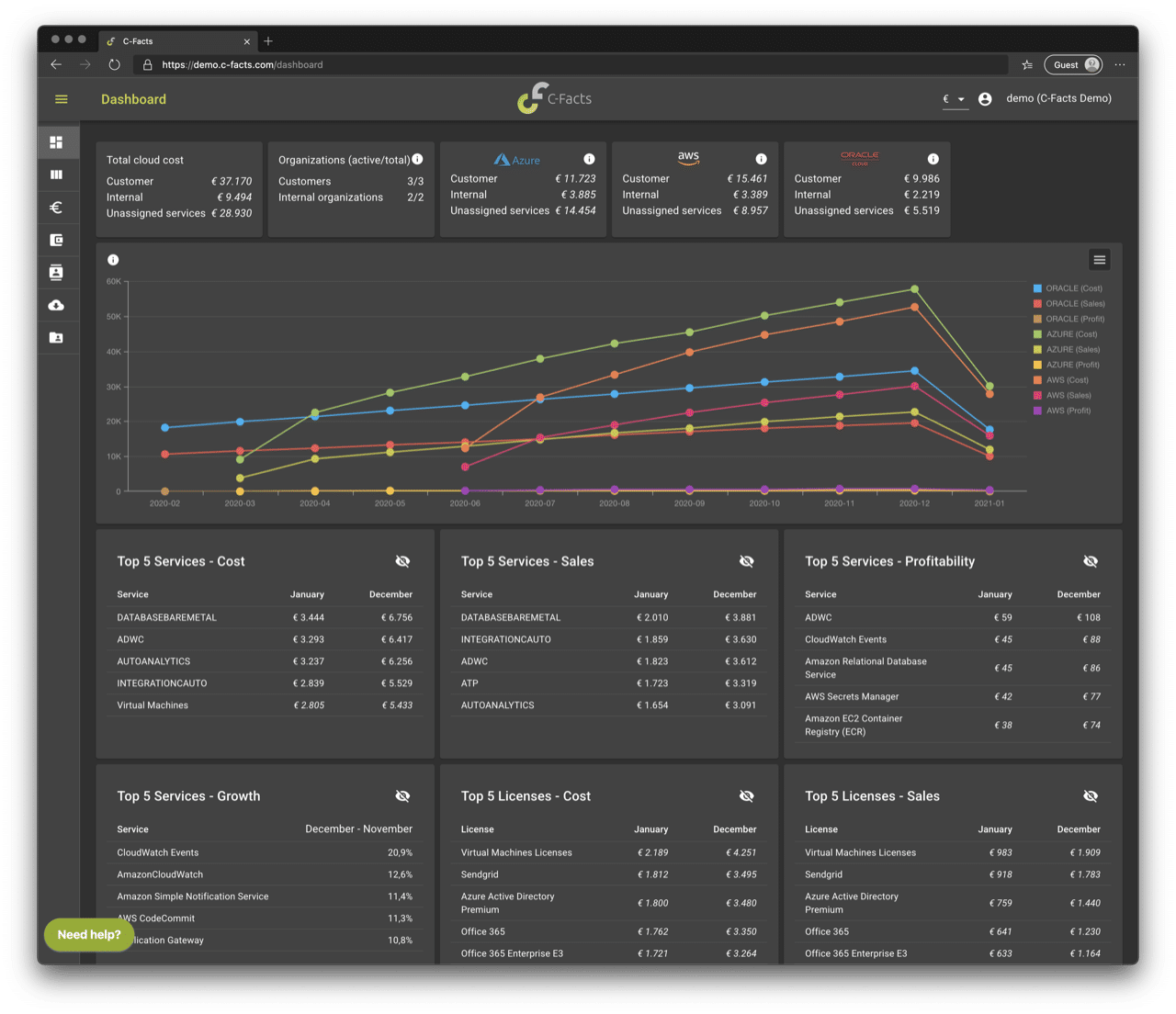 Connect to your Business Applications
Discover hidden information and get new insights by visualizing data from your business applications in your C-Facts Control Center. We can exchange data between your business applications and C-Facts as long as the App is API enabled.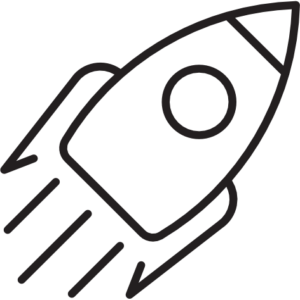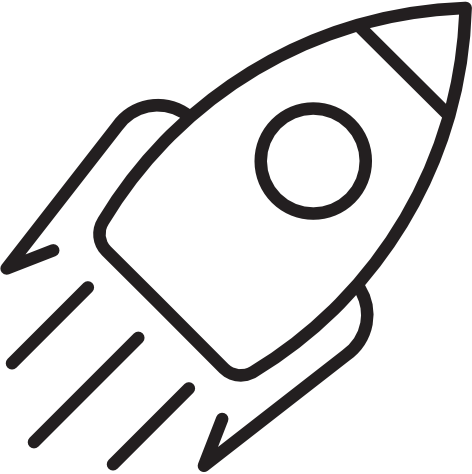 FAQ
Frequently asked questions
Here is the top asked questions about how to create added value services with C-Facts.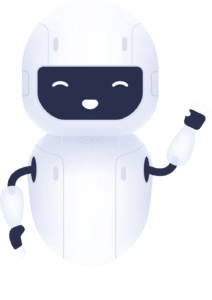 What are the best practices for implementing cloud cost management responsibilities?
Cloud cost management isn't an IT job. It is a shared responsibility where Finance, Engineering, IT and the Leadership teams are collectively responsible for the Cloud costs. 
If you have one, then your cloud governance team is the best place for developing and implementing best practices for cloud cost management.
Why should I use the C-Facts Cloud Cost Management service?
You need a Cloud Cost Management solution
You have discovered that the possibilities of the Cloud are endless but also that;
You receive an endless amount of billing lines,

Every public Cloud has its proprietary billing,

Development and IT teams have been able to set up several public cloud accounts,

Centralizing and aggregating Cloud costs has proven to be difficult,

All of this has created a blurry landscape of cloud costs.
With Cloud usage becoming a significant cost driver, it's time for a Cloud Cost Management solution that helps you get the most business benefits out of your cloud costs.
Make or buy?
Yes, it's a question still asked, but why? You've chosen to use the Public Cloud as it offers endless possibilities out of the box. 
Why do anything else when it comes to your Cloud Cost Management solution? That's why C-Facts is SaaS-based and delivers you a flexible out-of-the-box solution.
Third-party or native tools?
Most Public Cloud vendors offer a native cost management tool. These native cost management tools have limited to no support for third party clouds. You might use one Public Cloud today, but do you know what the future holds? When you set up your Cloud Cost Management solution, make sure it is future proof. 
With C-Facts, you have found a solution that can connect to any data source, ensuring that your Cloud Cost Management tool can keep up with your changing Public Cloud usage. 
What Stakeholders?
Cloud Cost Management isn't an IT job. It is a shared responsibility at the management level. CTO, CFO and business management all these stakeholders have a responsibility and need a tool that aligns with their goals and abilities. 
Throw a hardcore IT tool at a CFO or business manager, and you know it will not work. That is why C-Facts has put much emphasis on the ease of use of the C-Facts Cloud Cost Management service. Luckily it is also the number one feedback from our customers.
You need a solution now
With your Cloud costs becoming significant and ever-increasing, time is of the essence to get your Cloud Cost Management up and running. No time for months of implementation or sending employees to a training course.
With an average implementation time of just two days and a self-explanatory user interface, C-Facts can have your Cloud Cost Management tool up and running in no time.
Is C-Facts an IT tool?
Yes and No. C-Facts enables customers to relate cloud costs and usage to business drivers. With this done, we give you the insights needed to manage your cloud costs and have IT take action to optimize your cloud spend.
Does C-Facts support my need for cost allocation of shared resources?
Yes, with percentage-based cost allocation, you can allocate the cost of shared resources across the applicable cost centers in the C-Facts service. This enables you to create dashboards that resemble accurate cost insight per cost center. 
How does C-Facts deliver me actionable insights?
It starts with getting an overview of all your costs and being able to easily zoom into details that provide you with IT-relatable cost insights your IT department can act upon. A good example is the provided overview of unassigned costs that enables you to reduce cloud waste.
Can I give my stakeholders a custom dashboard?
Yes, by sharing a C-View, you can share a dashboard with only applicable data. 
By leaving out data they do not need (less is more) and enabling these stakeholders to create dashboards on their own accord, you will discover that those insights across the company are much easier derived.
With these dashboards provided from one source of truth, the C-Facts service, you ensure all stakeholders use the same data, no more local excel files or databases.
Can C-Facts give predictions and advice on usage and costs? (actual and future)
Not yet, but it is in the scope of C-Facts to provide predictions, and our advice on usage and costs will start with reserved instance insights and advice.
How sustainable is the C-Facts tool/service?
Hosted on AWS and using container technology, we make sure we only use the capacity we really need. No waist or overprovisioning.
How about VMware, Kubernetes and other data sources?
Although VMware and Kubernetes provide an API to collect usage data, they don't provide cost data or full historical data. The other challenge is that the API is often not publicly available but kept behind the enterprise firewall. 
To overcome these challenges, C-Facts has developed a solution where a local application is installed to collect the API data; this data is then saved in an AWS S3 storage bucket. C-Facts can collect the data from the S3 storage and build up historical data. This means that at initial installation, no historical data is available.
To turn the collected usage data into cost data, you can set the pricing on the collected usage items*.
*Under development 21/09/2022, expected availability beginning Q4 2022.
How long will C-Facts store/save the data? IE: is historical data available?
When setting up your C-Facts environment, we collect usage and cost data for the past 12 months (Availability data depends on the applicable cloud). If needed, we can collect the data from the start date of your cloud account. The maximum data retention time is seven years.
Who are the C-Facts competitors?
With C-Facts being a Cloud Cost Management tool, we are often put in the same bracket as tools like:
Apptio

Densify

CloudHealth

CloudCheckr

Flexera

Nutanix XI Beam
All these companies have successfully delivered customers an operations/technical focused Cloud Cost Management tool focused on a limited number of Public Clouds. 
There's more to cloud cost management than identifying waste and optimizing spend. C-Facts is designed to foster communication and collaboration between MSPs and their customers, operations, development, and finance teams. Although these features are often undervalued in RFPs, enterprises using the C-Facts solution rave about the time savings and positive business outcomes that stem from these capabilities.
What are the major issues when implementing C-Facts?
We found that having the appropriate cloud credentials to connect your cloud account to the C-Facts service when implementing the C-Facts solution is the first hurdle. These credentials are often not known to the people using the C-Facts solution. 
That is why we ask for a technically oriented person with the proper cloud credentials to be present at the initial implementation session.
This person also needs to have admin rights on their device.
Can C-Facts alter/change the data uploaded to the C-Facts tool?
No, we do not alter any data. With C-Facts' goal to present its customers with an accurate overview of cloud cost and usage, altering the data would be contra-productive.
At what minimum level of monthly cloud spend, is using C-Facts a valid solution?
On average, your monthly cloud spend needs to reach € 10,000.- to € 15,000.- a month for your management to notice it and request a solid report. This is when C-Facts becomes a valid solution for Enterprises.
Can I also use C-Facts data to fill my existing (data warehouse) systems?
Yes, you can, C-Facts enables you to download CSV files to fill your current data warehouse. We can create a dedicated solution to connect automatically with your existing systems on request.
What's the value of C-Facts on top of Azure Cost Management when I only use MS Azure?
1
If you are an IT manager who only needs to deliver a generic report on your Azure Costs, Azure Cost Management will be more than enough.
But you probably also use Office 365 or Microsoft 365, and the costs of those services are not available in Azure Cost Management.
C-Facts provides you with one dashboard with Azure, Office 365 and M365. 
2
You can use Power BI dashboards to provide (non) technical stakeholders insights on Azure costs. The same goes for Office 365. But it cannot allocate shared resources, meaning that stakeholders are not provided with an accurate dashboard. Instead, they either do not see all costs or too many costs.
When using C-Facts, you can create correct stakeholder specific dashboards with the percentage-based cost allocation and share these with the appropriate stakeholders. 
3
As mentioned, Power BI is used to create and share dashboards. It is a powerful tool but does need expert knowledge and time from the person creating the dashboards—something many stakeholders do not have. So if a stakeholder wants to create a specific dashboard, they probably end up calling the Power BI expert in your company.
Have a look at how easy it is to create dashboards in the C-Facts application. It is much more user friendly, enabling any stakeholder to create dashboards at will without training or help.
Which AWS subscriptions are supported by C-Facts?
C-Facts supports all AWS Master Billing accounts. Via the Master Billing Account, cost and usage data is collected from all linked accounts.
Is C-Facts GDPR proof?
Please read our Data Processing Terms to learn how C-Facts handles GDPR related data:
Is C-Facts ISO27001 certified?
We are in the process of getting ISO27001 certified. With many of the necessary processes in place, we expect to finish our certification end of Q4 2022.
What technology is the C-Facts Application built upon?
To create a future proof solution that gives our customers peace of mind, we have developed the C-Facts Platform based on the AWS Well-Architected Framework. By using the modern Spring Boot Framework for our backend and Typescirpt for our frontend, the C-Facts application is able to easily connect to any data source and visualize the data as requested.
How is User management done in the C-Facts service?
After an admin has been given access to the C-Facts service, he can add Admin and Read-only users to his workspace. When an admin shares a C-View, the recipient of the C-View will become the admin of the new workspace based on the shared C-View. He can then add users to that workspace.
Can I add extra User roles to User Management?
Currently, there are two roles available, admin and read-only. Need more roles? Please provide us with your requirements.
Can I connect C-Facts to my current AD (Active Directory)?
To provide users with a seamless user experience, we support single sign-on that we set up per customer.
How does C-Facts handles quarterly rebates of my MSP/Distri (not coming through the API)?
C-Facts has two means of gathering data:
API based data collection

AWS S3 bucket collection
With the AWS S3 bucket collection, we are able to collect any data, including rebates of your MSP/Distributor.
How can I check if C-Facts is 100% aligned with the invoices of my supplier?
The C-Facts Cloud invoice dashboard gives you a comparison of:
The amount mentioned on the invoice form your supplier and,

The amount the C-Facts application has gathered via the API.
C-Facts collects daily Usage and Cost data via the API. Public cloud providers apply corrections at the invoice level. C-Facts performs a re-run of data collection after the invoice period has ended to incorporate the invoice corrections. This data collection re-run collects any corrections made by your cloud provider.